CALLING ALL MAGICAL BABES WHO WANT TO MANIFEST A LIFE THAT'S EVEN BETTER THAN YOUR VISION BOARD
The vast majority of people have been programmed by society to view life from the lens of

fear

,

scarcity

,

struggle

and

limitation

while being told to prioritize things that DON'T actually bring lasting joy and fulfillment.

And consequently, they play it

small,




settle

for less than they deserve and

miss out

on
the things their heart wants the most. 💔
(Their words, not mine.)

😉
"I would've paid 10x more for these kind of results!"
Inside the Club, you'll learn how to ...
Clarify Exactly
What You Want in Life


You'll get crystal clarity on what every single aspect of your IDEAL dream life looks like (we're talking what you REALLY want in your heart of hearts, not what you think
you "should" want!)
Reprogram Your
Subconscious Mind

So that you can END self sabotage and automate the habits and behaviors you need in order to reach your goals on autopilot with way less time,
effort and struggle
Identify & Bust the Limiting Beliefs Holding You Back

EVERYTHING we create in our reality
stems from our subconscious BELIEFS, so you'll learn exactly how to identify and reprogram your limiting beliefs so that they never control you or hold you back again
Master the Fail-Proof Process
of Manifestation


You'll learn my step-by-step manifestation process so that you can manifest whatever you want in any area of life! Manifestation is 100% backed by science and the universal laws behind it work exactly
the same for everyone.
Listen to & Strengthen
Your Intuition

So that you can STOP overthinking and just intuitively KNOW the answers to your most important questions, easily navigate hard decisions and always know the next BEST steps to take to get to your desired outcome as easily as possible!
Master the Frequency of Money
(& Your Relationship to it!)

So that you can DROP the money struggles, uplevel your finances and always have more than enough money for everything that you want, need and require in order to
be able to create the type of life that
you want the most
Process, Heal and Release "Negative" Emotions


So that you can unblock any repressed energy and emotions, feel your best and naturally raise your frequency (which means that you'll be able to manifest WAY more powerfully without any extra effort!)
Create Better Relationships by Loving YOURSELF First

You'll learn how to raise your self worth so that you can experience more love, create better relationships (of ANY kind!) and become a literal MAGNET to the results
you want to create in life
Declutter & Let Go of Everything That's Not Serving You

You'll learn how to let go of the physical, mental, digital and energetic clutter that's draining your precious time and energy and is seriously BLOCKING what you want so that your manifestations can come in
Master the Universal Laws
Behind Manifestation

Manifestation works in accordance with specific universal laws, and the Law of Attraction is only ONE of them! Think of these laws like the "rules" for the game of life, and once you master them you can WIN.
Discover the Inspired Actions That Move the Needle the Fastest

This is the difference between spending countless hours hustling, struggling and FORCING things to work (while seeing little to no progress), VS taking actions that feel EASY and move the needle 100x faster
Harness the Power of Embodiment to Experience Quantum Leaps


This is the secret to "bridging the gap" between where you currently are and where you'd like to be in the absolute FASTEST way possible to experience massive shifts in
days and weeks, not decades
How This Works
+ What You Get:
You get a vault of $4,444+ worth of powerful video trainings & tools so you can master manifestation and intentionally
create the life of your dreams 💕
You'll receive instant and lifetime access to 16 different training bundles on all things manifestation to help you step into your fullest potential and create more money, better health, better relationships and anything else that's on your life's "wishlist!"

Each actionable training bundle is designed to help you get REAL RESULTS fast.

And perhaps the BEST part?

You can activate incredible results with just 3-4 hours per month. Yeah that's right, it's not about "binging" a bunch of content Netflix style! If you just watch and implement even
ONE training bundle per month, you'll experience more shifts than you ever thought possible!



Here's a peek at a few of the training bundles:
Manifestation
101
An in depth training that
breaks down exactly how the process of manifestation works and the SIMPLE 3-step process for how to manifest anything you want in life
21 Potent Manifestation Methods
Simple, fun, quick and EASY rituals to effectively reprogram your
subconscious mind and get you into alignment so that you can manifest what you want faster than you ever thought possible
Release Anxiety &
Dissolve the Problem
Learn how to release anxious thoughts and transform them into peace and security by using the 5 step process for transmuting anxiety that will literally
rewire your brain!
Balance Hustle
& Flow
Learn how to tap into the
energetic state of flow and inspired action so that you can save time, conserve your energy and maximize your impact while getting the results you want 100x faster.
Align & Let Go
of the Clutter
It's time to let go of the physical, mental, digital and energetic clutter that's seriously draining your precious time + energy and BLOCKING your manifestations from coming in!
Manifesting Through
The Mess
Is the shit hitting the fan? A step-by-step training on how to transform your biggest breakdowns & challenges into your biggest BREAKTHROUGHS & transformations!
"The biggest shift I've ever had in my entire life."
⬇️

had major breakthroughs ⬇️
Manifested over $2,000 by day 14 ⬇️
Manifested over $1,000 by day 13 ⬇️
Manifested over $2,000 by day 30 ⬇️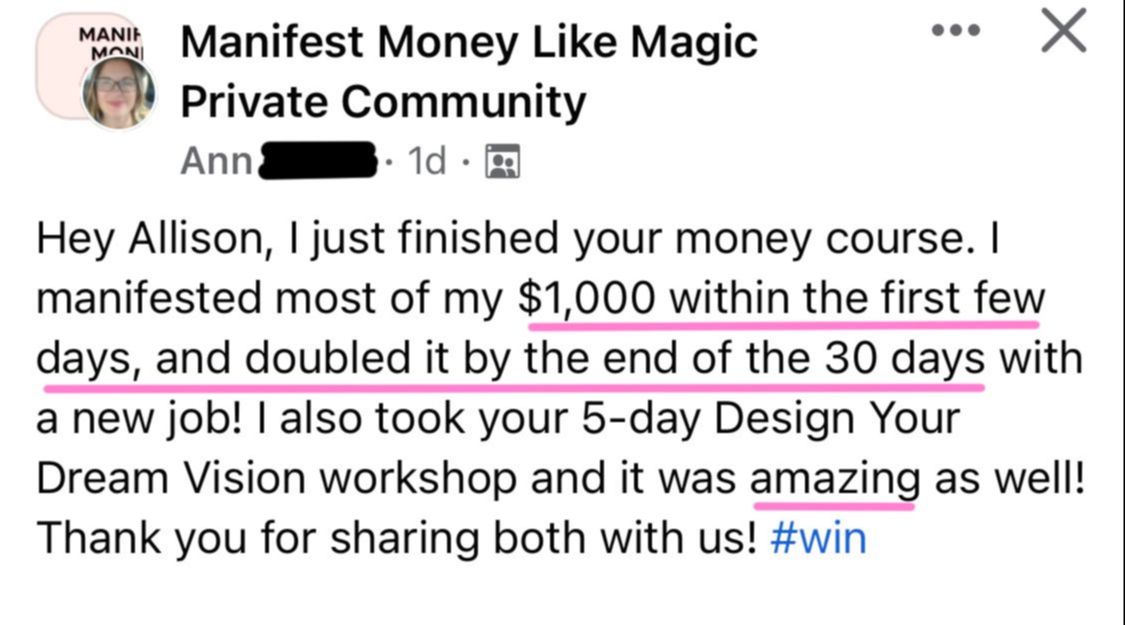 Lastly, you'll get access to a private FB community with direct access to me to get the accountability & support you need. 👯‍♀️
(A $597 Value)



I check into the group at least once every single week to answer your questions and to provide you with any additional coaching or support you might need along the way!
"Having this group has already made such a difference."
Ready to feel the freedom and
fulfillment that comes from transforming your life
into EVERYTHING you want most?
Manifested her $10,000 savings goal into reality ⬇️
"Has shifted things for me that I've been stuck on for YEARS!"
From manifesting more

money,

to more energy & well being,

to getting

the dream job, to creating
the

desired lifestyle,

to experiencing

life-changing breakthroughs ...

see what some of the members
are saying after only a few short weeks!
How does The Design Your Dream Year Exclusive Club compare to working with a coach
one-on-one for an entire YEAR? 🤔
And you might be thinking ...

"Manifesting the life of my dreams sounds great and all,

BUT

..."

(Click on the

+

to see the "but" BUSTED!)
Manifestation and the Law of Attraction are just a bunch of 'woo' that only spiritual people believe in … so it doesn't apply to me.
I have no idea HOW my dream life could actually happen … so it's unrealistic to believe it's even a possibility.
I've set goals in my life many times before that never happened … so I don't see why this would be any different.
What kind of RESULTS can I expect?
How do I know this will work for me? Can you guarantee results?
How long before I start seeing results?
I don't feel like I'm quite ready for this ...
I'm not sure I can afford this or if it'll be worth the money!
I'm super busy and hardly have any free time as it is. How much TIME will this ACTUALLY take?
I've tried the Law of Attraction before and it didn't work for me.
It's hard for me to change … how do I know that this will ACTUALLY help me?
The Design Your Dream Year Exclusive Club is a manifestation vault & community that provides you with a
proven & powerful
ROADMAP
to personal transformation and creating
the life of your dreams!
Here's a recap of everything you get
when you sign up today 😍 ⬇️
"I've easily made back 1000x what I invested this month alone!"
You've got

questions?


I've got

answers!
What happens when I sign up?
Is this still for me, even if I'm not an entrepreneur?
Do you actually check into the private FB group?
What is the cancellation policy?
Can I buy this, try this and then ask for a refund?
Can you guarantee results?
How much time do I *actually* need to devote to this each month?
How long do I get access to all the content?
What if I have other questions?